Excited to share this 3D scan of my installation at the Center for Maine Contemporary Art. You can click and drag to explore on your own or press play for a walkthrough. You'll also see wonderful work by Emilie Stark-Menneg (paintings) and Aaron Stephan (canvas and ratchet strap).

More information about the exhibition:

Center for Maine Contemporary Art
MATERIALITY | THE MATTER OF MATTER
NOVEMBER 11, 2017 - FEBRUARY 11, 2018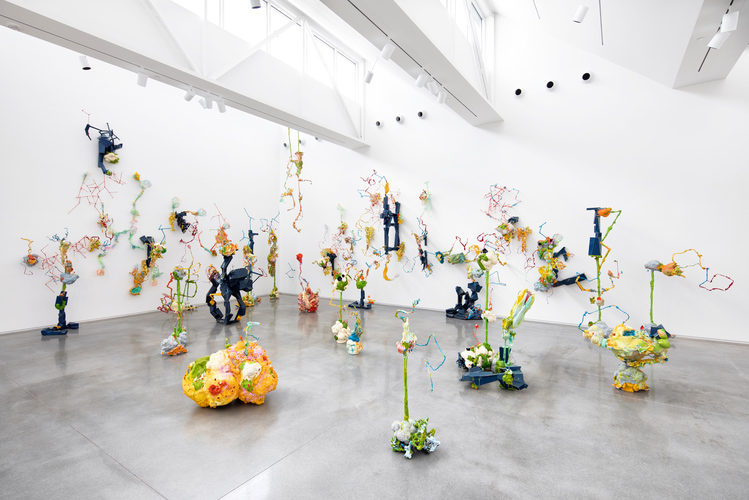 You begin with the possibilities of the material
.
–Robert Rauschenberg
The question of how and why an artist uses materials has long been a topic of consideration in art history. Today, many artists are looking to this question and seeking to find a balance between what they use to make work and the concepts behind them. Providing agency to the materials themselves, artists are looking at materials as a means of communication, whether they are expanding on traditional media and narratives or utilizing everyday objects to construct new forms. Exploring these concerns in their work, the artists included in the exhibition, all with ties to Maine, are also considering why they choose to work with certain matter in our current material culture and social climate, and the role that these materials play within it.
http://cmcanow.org/event/materiality-the-matter-of-matter-1/
Artists in the exhibition include:
Jackie Brown
(Bath, ME)
Stephanie Cardon
(Cushing, ME + Roslindale, MA)
Lisa Kellner
(Deer Isle, ME)
Adam Lampton
(South Portland, ME)
Jonathan Mess
(Newcastle, ME)
Loretta Park
(Brunswick, ME + Jamaica Plain, MA)
Gelah Penn
(Hope + Georgetown, ME + Brooklyn, NY)
Ben Potter
(Belfast, ME)
Shannon Rankin
(Rangeley, ME + Roswell, NM)
Emilie Stark-Menneg
(Brunswick, ME)
Aaron T Stephan
(Portland, ME)
Ian Trask
(Brunswick, ME)