This work is the result of a collaboration with Bowdoin College student
Laura Griffee
'17. Through a 2015 Gibbons Fellowship we spent the summer developing an interactive 3D interface for my sculpture installations.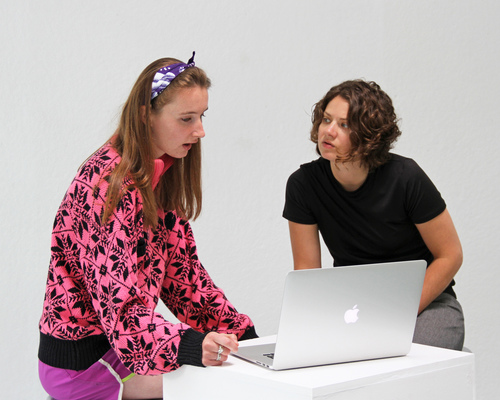 Left: Laura Griffee '17
Right: Professor Brown
The process began with making a 3D model. Laura took 250 photographs of a selected sculpture, capturing the work from every angle and then imported the images into Autodesk Memento where they were stitched together and used to generate a 3D model. Laura then used the 3D model to generate animated videos that rotate and move the object, offering viewers a sense of the 3D dimensional form in a way that can't quite be captured through traditional documentation.
Laura then generated an interactive model that allows viewers to rotate and explore the work on their own. This interface aims to give the user greater control over how they experience the artwork. Laura developed the interactive model using a WebGL web player and Blend4Web.

We are currently using an animation program called Unity to take the interactive quality even further. Installation art often involves physically moving through an environment and by developing a virtual installation we hope to offer viewers a comparable experience. This is an exciting step towards allowing viewers to navigate through virtual space in a way that speaks to the experiential nature of installation art.
For best viewing experience use Chrome or Firefox. Some browsers may not have WebGL support. I've also provided a video tour of the installation below.
In the future we hope to explore additional virtual possibilities such as creating a build-your-own sculpture feature and adding functions that allow users to bring up photos, videos, and a web player by clicking on a sculpture in the virtual installation.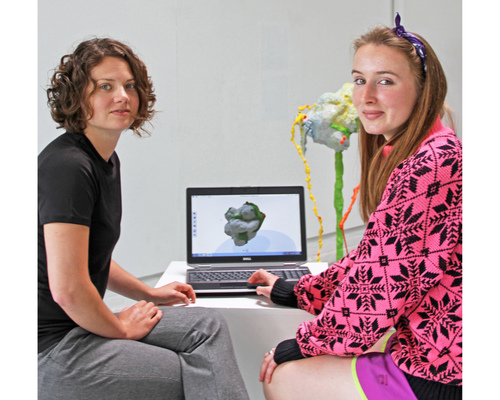 Left: Jackie Brown
​Right: Laura Griffee '17